Ursula Haverbeck – 88 Year Old Grandmother Imprisoned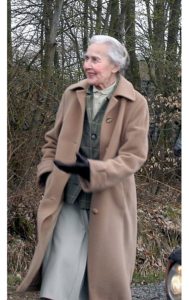 Hero is too small a word for this woman. She is single-handedly igniting the German spirit to stand up against the powers that be.
Most of Europe suffers the loss of open discourse about the Holocaust. More than 2,000 trials per year for more than 10 years. Just for ASKING. Hundreds have been imprisoned. You WILL go to jail if you say there was no Holocaust. Just SAYING that will be clobbered by the legals system. So this brave woman keeps saying it, keeps getting arrested, keeps being tried and convicted. More and more people are standing with her and listening to what she and so many have been saying all along. Please find out more about this remarkable woman, and others like her, who will not be silenced, who know how desperately we ALL need to hear this message.
See this German Website, which can automatically translate into English through your browser. She has quite a following of enthused activists who are standing up to the tyranny of suppression. On this site are many videos, some in English and some with subtitles. Please find out more about this inspiring (extraordinary) movement that is healing the heart of Germany…
WEBSITE – http://ursula-haverbeck.info/