Technology & New Inventions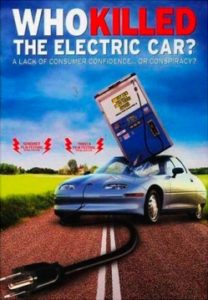 There is a wonderful documentary that I cannot find on YouTube in Full
It's called "Who killed the electric car?"
Find it. See it. Do not bother with the follow up "Revenge of…" It was bogus.
---
WIKIPEDIA: https://en.wikipedia.org/wiki/Who_Killed_the_Electric_Car%3F
Who Killed the Electric Car? is a 2006 documentary film that explores the creation, limited commercialization, and subsequent destruction of thebattery electric vehicle in the United States, specifically the General Motors EV1 of the mid-1990s. The film explores the roles of automobile manufacturers, the oil industry, the federal government of the United States, the California government, batteries, hydrogen vehicles, andconsumers in limiting the development and adoption of this technology.
After a premiere at the Sundance Film Festival, it was released theatrically by Sony Pictures Classics in June, 2006 and then on DVD by Sony Pictures Home Entertainment on November 14, 2006.
---
There was a documentary about how GM took out the mass transit system of LA. Chinatown movie mentioned it. Must find.